New Faculty: Teresa Liberati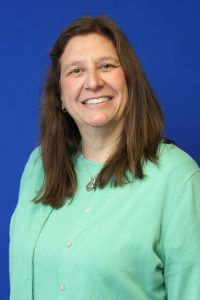 In hopes of getting to know them better, The Lamp asked new Lincoln Land faculty to fill out a questionnaire. Teresa Liberati has been an adjunct instructor here since 2015. She now joins us as an assistant professor.
Do you like Cubs or Cardinals? Or other?
I don't watch much baseball but am a huge Ohio State Buckeyes fan – I bleed Scarlet & Gray!
Where is the farthest place you've ever traveled?    
Budapest, Hungary for a work-related meeting.
If you could go anywhere in the world, where would you go?   
New Zealand – to experience the culture and landscape.
How would you spend a billion dollars?  
I would use it to start a foundation to help people be their best selves.
Are there any historical figures you'd like to meet?  
Susan B. Anthony to say "Thank You"
As a child, what did you want to be when you grew up?  
A veterinarian – ALWAYS!
What was your first job?  
I worked as a library page at a small, one-room branch library all during high school.
What was your worst job?
None – they all taught me something and helped me pay my bills!
Did you teach prior to LLCC?
Yes, but always part time.
What degrees have you earned, from where?  
I have a Doctor of Veterinary Medicine degree from The Ohio State University and a Master's and PhD in Toxicology from The University of Rochester. Interestingly, due to early admittance to veterinary college, I never earned a B.S. which can make it awkward when completing online applications.
Were there any obstacles you struggled with in college? 
Being the oldest of three children and having parents who were not able to attend or finish a college degree, I was always short on cash and worked part time jobs during college.  My most unusual position was in an entomology lab raising fleas.
What was the most challenging course you took in college? 
As an undergraduate it had to be Molecular Biology because the professor forbid us to ask questions.  You either understood the material or not. When I teach I remember how I felt in that class to this day.
Would you share your best college memory with us?
Realizing my goal of becoming a veterinarian and attending Oath and Hooding. Then getting my diploma with hundreds of others, including my brother who earned his BS, in the 'Shoe' at Ohio State on a beautiful, sunny day while my inflated palpation sleeve floated over my head.
Would you tell us about your family? 
My husband, Douglas, is an Instructional Designer and our two daughters attend college in Wisconsin and Colorado.
Do you have any pets?
My pals include a 9 year old black Maltese mix and two one-year old cats, all rescued.  Pets find you wherever you live.