Virtual events connect potential students to LLCC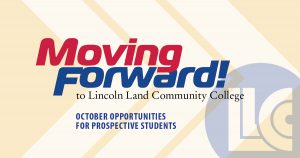 High school senior Hannah Woods will be graduating early and attending Lincoln Land in January.
"I thought this COVID stuff would be over with by now," Woods said. "I've never been to Lincoln Land, so I don't even know what to expect."
She remains hopeful that a virtual tour and other online information sessions will put her mind at ease as the first day of the spring semester approaches.
Lincoln Land began its first virtual information session on Oct. 8, part of a variety of the "Moving Forward" program that aims to help students virtually during COVID-19. The school offers online information sessions regarding majors/training programs, FAFSA and the campus itself.
Freshmen can join online and learn more about a major that may interest them. A registration form for the sessions is available on Lincoln Land's website.
They will also be hosting a "Campus Cruise" 3:30 to 6 p.m. Wednesday, Oct. 28. Students will have the opportunity to drive around campus and make different stops. At each stop, students will be able to watch videos, remotely, of each building. More information and a map of the driving route has not yet been released.
"We want to change things up and create new ways for students to explore opportunities," said Kyla Kruse, assistant director of public relations, who is overseeing the "Moving Forward" program.
Kruse has been working at LLCC for a little over three years; but has years of experience in the communications field.
"It has changed the way we do things, the way we approach different opportunities," said Kruse regarding COVID's effect on Lincoln Land.
Normally, the school does an "orientation" day for prospective students. The pandemic has made this event difficult to put on. Kruse, and others involved in the "Moving Forward" program hope that the virtual information sessions and "Campus Cruise" will be a good temporary replacement for the orientation day.
For prospective student Hunter Tapscott, the pandemic hasn't disrupted his previous plans to attend LLCC.
"I already visited Lincoln Land in high school, pre-pandemic," Tapscott said.
He said the lack of on-campus orientation sessions doesn't bother him.
"I know Lincoln Land is a great school", he said.
More information regarding the "Moving Forward" program, such as dates and times, go to www.llcc.edu/forward.
Upcoming information sessions on majors and training programs:
5:30 p.m. Monday, Oct. 19 – Math, Computer Science, Natural and Agricultural Sciences
5 p.m. Wednesday, Oct. 21  – Arts, Communication, English and Humanities (closed captioned)
5:30 p.m. Monday, Oct. 26 – Short-term training programs at Capital City Training Center
5:30 p.m. Thursday, Oct. 29 – Hospitality and Culinary Arts
Upcoming FAFSA sessions:
5 p.m. Wednesday, Oct. 14
5 p.m. Thursday, Oct. 15
5 p.m. Tuesday, Oct. 20
5 p.m. Thursday, Oct. 22 (closed captioned)
3 p.m. Wednesday, Oct. 28