Tyson Fury Closes Phenomenal Trilogy Out With a Bang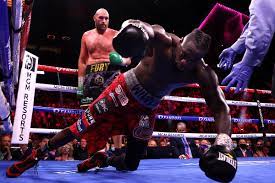 In this current era of boxing, even with the abundant amount of fights that take place each year, a number of fans and pundits often criticize the lack of big fights each year. That is not to say we do not get pleased with a profuse amount of fights yearly, but a lot of highly sought after fights in recent memory struggle or never come to fruition such as Terence Crawford vs Errol Spence Jr. or Anthony Joshua vs. Deontay Wilder, which would have been for the undisputed heavyweight crown at the time, as neither hold a title at all anymore. Some claim that fighters are too afraid to let go of the "0" on their record and that the best simply do not want to fight the best, when truthfully not many can say they know what goes on behind the scenes, as the numerous amount of promotions unfortunately make it difficult for a lot of fights to be made.
In the midst of all of these criticisms, two name fighters of the heavyweight division have treated fans to three exciting encounters within the past few years: Tyson Fury and the aforementioned Deontay Wilder.
Deontay Wilder of Tuscaloosa, Alabama, started boxing at 19 to raise money for his daughter Naieya, who was born with spinal bifida. Years after winning bronze in the Olympics, Wilder became America's first heavyweight champion after almost a decade, building the reputation of one of boxing's most daunting punchers in years and establishing an impressive records of 40-0 (39 KOs) before meeting Fury in the ring.
Tyson Fury of Manchester, England, comes from a boxing family and started fighting at 10. Upon dethroning Wladimir Klitschko, one of the longest reigning pound-for-pound champions in boxing history, drug-addiction and mental health issues had Fury out of the ring for almost three years, with many believing he would never set foot in the ring again.
After winning two tune-up fights in 2018, Fury was ready to take on Wilder for the only title he had never faced before, the WBC title.
Following a fun buildup for months prior to the fight, the two giant, unconventional, undefeated and contrasting heavyweights finally faced off in December 2018.
Most fans and pundits believed this "boxer vs puncher" matchup was a cherry pick. Despite the censure Wilder has always received for his skillset, many believed he would end up knocking Fury out and that it was simply too early for Fury to take that level of fight. As he did against Klitshko, Fury proved many wrong. Fury outclassed Wilder for most of the fight, showing more dimensions to his game and overcoming two knockdowns only to receive a draw on the scorecards that most felt was inconceivable.
The two fought again in February 2020. The odds were very divided amongst fans and pundits, but Fury dominated from start to finish, brutalizing Wilder and sending him to the canvas twice before earning a 7th-round TKO in what was Wilder's first loss. This victory made Fury a world champion for the first time since 2015.
Unfortunately, both fights stirred an amount of controversy. Along with the official scorecards, some complained that the count that Fury received in the 12th round of the first fight was too long. In the second fight, some made accusations of Fury having his gloves tampered with, incorrectly citing this as the reason he was able to hurt Wilder this time around. This created racial tension, which was really unwarranted and inflicted a bruise on the sport that it really did not need. However, this controversy made the fans anticipate the rubber match even more.
After being pushed back and threatened to be cancelled, the two met for a third time last Saturday. Most, including myself believed that Fury would simply go in and bulldoze Wilder based on how the previous fight went, but he ended up having to put up a fight in order to keep his new WBC belt.
Wilder did something in the first round that not many believed he would do at this stage- make adjustments. From the start, Wilder was being consistent with his jab and heavily focusing on the body, focusing throughout on setting up his fearsome right hand. It was Fury who landed a right hand to close out the round, which caused the action to ensue in the following round.
In rounds 2-3, lots of back-and-forth action occurred, with Fury beating Wilder to the punch often and landing the more effective shots before sending Wilder down with a combination in the third. Wilder survived and came back with a vengeance in the fourth, sending Fury to the canvas twice in what was his best round ever against Fury.
The drama resumed in round five, as Wilder chased Fury down and landed numerous right hands, but not without taking some solid shots in return. After five rounds, Wilder found himself in a new territory against Fury- ahead on the scorecards. However, the remainder of the fight would swing in Fury's favor.
Throughout, Fury displayed a higher pedigree, showcasing a superior offensive arsenal as well as greater stamina and defense. Wisely, he used his size to his advantage, pushing and smothering Wilder around the ring, effectively winding Wilder early. The recovery of his is arguably the best of anybody in the sport today, as he was able to recover very fast after receiving blows  from somebody that is considered one of the hardest hitters in the sport today, only to hurt him worse in return.
In the 10th, Fury put Wilder down again with an impressive right hand counter. Wilder valiantly managed to swing the momentum his way by hurting Fury in the final moments.
From the start of the 11th, Fury was on top of Wilder again, leading him to the ropes and hurting him with an overhand right before laying him out cold with another one.
Even with a loss, albeit a second loss in a row, Wilder should be proud. While suffering a beating for the second time at the hands of Fury, he dished out a considerable amount of damage himself and displayed a heart almost too big even for his 6'7″ stature to hold when observing how much he took from Fury in what was his best performance in the three fights. The fact he refused to show any sportsmanship is dishonorable though.
Fury proved he is arguably the best heavyweight of his generation once again. Hopefully we get to see him face the also undefeated Oleksandr Usyk, who upset Anthony Joshua for the other three heavyweight titles in what was also an epic battle.
This instantaneously warranted a spot as fight of the year, and justifiably cemented itself as one of the greatest rubber matches and heavyweight fights ever. There was drama in every round, as both hurt each other throughout before coming back to hurt the other in return. This was also the first time these two exchanged in the ring and even fought in close quarters. The type of fight people think of when discussing heavyweights. The type of fight all fans love and want to watch over and over. The type that gets named as an "instant classic".
The only bad part about the outcome: With the official score being 2-0-1 in Fury's favor, therefor needing no tie-breaker, we will likely never be treated to a fourth fight between these two!