Loggers go mad for plaid during spirit week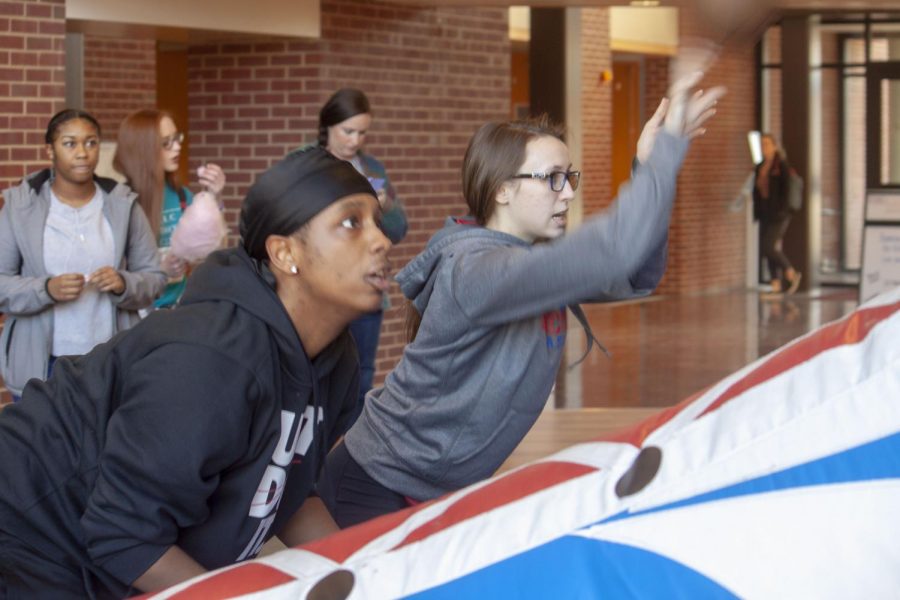 Student life created a spirit-filled week starting Feb. 4 to excite students for the college's Homecoming games on Saturday, Feb. 9.
The last event in Homecoming Week was a pep rally in the A.Lincoln Commons. Students were encouraged to wear plaid on Friday, Feb. 8, to show off their Logger pride.
Students had the chance to engage in some friendly competition by playing an inflatable basketball game or giant games of Jenga and Connect Four. There was even an Angry Birds game from the Lincoln Land Foundation promoting the scholarship that they give out each year.
Student life made sure that the A.Lincoln Commons was full of life every day this week. Door prizes and free swag are just some of the things that were available. On Tuesday, Feb. 5, there was also was a free screening of the movie "Coach Carter," a biopic about a basketball team from Richmond, California. The showing also offered popcorn and drinks.
On Wednesday, Feb. 6, Loggers showed off their talent at the school's talent showcase. Meanwhile, students were asked to vote for their homecoming king and queen. The winners of that, as well as the winners of the grand prizes, were announced at the men's basketball game.
One of the things that helped kick off Homecoming Week was the Lumberjack breakfast on Feb. 7. Most Lincoln Land students have met Dan Herbst, who often provides food and treats for students in the Commons. This time he made breakfast waffles on a stick with syrup and toppings. Many students enjoyed this treat.
Leroy Jackson got his with strawberries and apples and topped it off with whipped cream. He said of the waffle on a stick, "Not too bad (and) pretty good." This was Jackson's first time at an event like this.
Justin Hughes and Hunter Evans also thought the waffle breakfast was good. Their waffles featured syrup and chocolate chips with whipped cream.
"It's always a good day when Dan comes to town," Hughes said.
Lincoln Land students expressed excitement for the student life events.
"The free food here always beats having to pay for lunch," said student Isaiah Thomas.
"It means a lot that everyone is having fun and meeting new people, as well as spending time with friends," Jonohn Stainback added.