Lamp wins 19 awards, editor wins scholarship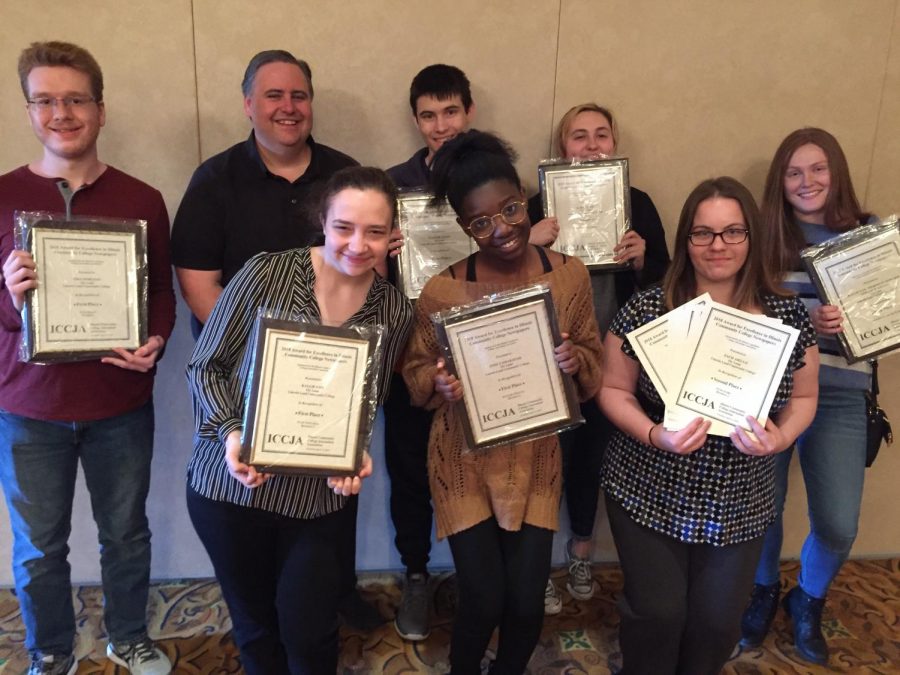 Lincoln Land Community College's student newspaper, The Lamp, won 19 awards, including six first places, at the Illinois Community College Journalism Association Spring conference, and the student paper's editor won the first scholarship ever awarded by the journalism organization.
"Six first-place awards is amazing. We had an awesome year. This is the most awards we have won in the five years I have been advising the newspaper," said Tim McKenzie, adviser of The Lamp and professor of journalism and humanities. "We had an incredible group of students who spent lots of time encouraging one another and doing great journalism."
The awards were presented for the best work during 2018 at the spring conference held April 12, 2019, at Grizzly Jack's Grand Bear Resort in Utica, Illinois.
Meredith Howard, who is editor-in-chief of The Lamp, was awarded a $500 scholarship.
This was the inaugural scholarship, McKenzie said. Each member school of the statewide association could nominate a student with a personal essay, adviser recommendation and portfolio of their work. A group of professional journalists reviewed and selected the winner.
"Meredith is a deserving winner," McKenzie said. "She sets a high standard for future recipients of the scholarships. She has grown a lot as a journalist, and I'm certain she will continue to grow as a writer and editor."
Howard has been taking classes at Lincoln Land for three years. She is a homeschooled high school student who takes classes at the college. She plans to attend Baylor University in Waco, Texas, next year and major in journalism.
As for the awards, three staff members, Kallie Cox, Meredith Howard and Zach Aiello, won first place for news story of the year. The three wrote articles on one topic, all of them were on issues related to the #MeToo movement.
Cox won two additional first-place awards for a single news story and for a staff editorial.
Emily Smarjesse also won a first-place award for feature writing about a student at LLCC who is continuing to pursue a degree while waiting on a kidney transplant.
The judges wrote in comments: "This is a powerful story with compelling details and effective use of multiple sources. Well done!"
Another first-place finish went to Noah Branson in sports feature writing for an article about student athletes choosing community colleges.
Former co-editor and editor of photography, Niko Robledo won five awards, including first place for page design.
"This bright, colorful page draws the reader's eye with big art and clean typography. Some of the most difficult pages to design are those with boring art," the judge commented. "… The designer did a great job making a full-page package out of that art."
Robledo also won third-place and honorable-mention awards for feature photos. He also won honorable-mention awards for front page design and feature writing.
Emma Shafer won two second-place awards for news column and staff editorial. Avery Cook won second place for headline writing.
In addition to a shared first-place award, Aiello took home second place for reporter of the year, a prize given for the community college journalist who produces the best portfolio of work. He also won second place for a single news story. Aiello graduated in 2018 and was the editor-in-chief for 2017-18 school year.
Tyler Buske, assistant editor for The Lamp, won third place for page design.
Howard is the current editor-in-chief of The Lamp. In addition to the shared first-place award, she also earned an honorable mention for sports column.
The staff took home second place in the Mike Foster General Excellence Award and an honorable mention for its website.
"It's always great to win a general excellence recognition and a staff award for the website," McKenzie said. "Those are awards that are only possible because you have an entire staff contributing, and we have had an amazing staff, doing some awesome work as a team."
Additionally, McKenzie was elected as a vice president of the Illinois Community College Journalism Association.