Community Organizations Oppose Sheriff Campbell's Military Vehicle
Twelve community groups gathered outside of the Sangamon County sheriff's office to oppose adding a mine-resistant ambush-protected vehicle (MRAP).
Sangamon County Sheriff Jack Campbell has requested the decommissioned military vehicle. The sheriff's office previously acquired one in 2014, but the MRAP was removed under sheriff Campbell's predecessor, Sheriff Wes Barr (2014 to 2018), who believed a vehicle devised for war was unnecessary for a Central Illinois police agency.
"We do not need that (MRAP) in our community. Those vehicles were made to be in wartime, and we are not at war with our community," said Vanessa Knox, a leader of the event and a leader at Faith Coalition for the Common Good. 
Concerns over the "militarization of law enforcement" loomed over organizers as they spoke against the acquirement of an MRAP. The organizers encouraged members of the community to join in on their efforts to say "No" to what one speaker called a "tank."
Stephen Schnebly, a professor of criminal justice at the University of Illinois at Springfield, claims that vehicles such as the MRAP deliver a "bad message" to police/citizen relationships. In the military, the purpose of these vehicles is for war, but in the hands of police, they are a tool to project police use of force and display of power. 
"They're a tool intended to produce fear," Schnebly said. "And to produce intimidation in the eyes of citizens who see them rolling down the streets."
Schnebly asserted that the public did not need any more reminders of the force of power the police could bring on its citizens. 
As many Americans view the conviction of Derek Chauvin for the murder of George Floyd as accountability, they do not consider it justice. The pressure on Congress by civil liberty groups and the public to pass a police reform bill for justice has intensified.
Sunshine Clemons, a co-founder of Black Lives Matter Springfield, spoke about building trust between citizens and the police.
"It does not help build the relationship we are trying to cultivate here in our community," Clemons said. "We believe this will be in direct opposition to that goal."
Clemons also pointed out that according to the Sangamon County Sheriff website, "the Office of Sheriff is the oldest continuing, non-military, law enforcement entity in history" and demanded they live up to their mission, values, and promise to the community.
Knox said local law enforcement has made considerable strides in connecting with the public. She and all 12 local organizations believe MRAPs have no place in the relationship and will only regress any progress.  
The sheriff has claimed that an MRAP would assist with natural disasters and assisting police in-home shooting situations.
Knox insists that organizations such as SWAT and the National Guard are trained tactical forces ready to assist with those types of situations. Purchasing an MRAP vehicle is not necessary.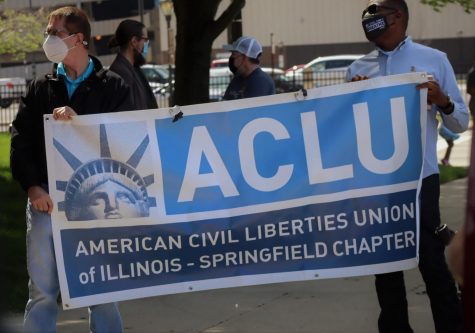 Organizations opposed who attended the event were Faith Coalition for the Common Good, American Civil Liberties Union-Springfield Chapter, Springfield Call2Action, Action Illinois, Black Lives Matter Springfield, UIS Department of Criminology and Criminal Justice, Abraham Lincoln Unitarian Universalist Church, Planned Parenthood Illinois Action, Sierra Club, Education and Action Together, Sangamon Valley Green Party, Sangamon County Democratic Socialists of America, Resistor Sisterhood.
Campbell was invited to the press conference but did not appear.