Beardstown celebrates fall with 50th annual festival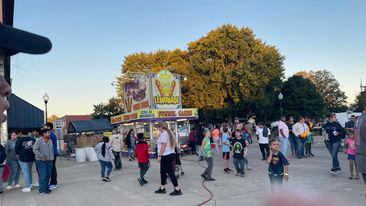 Katelyn Wessel grew up in Beardstown and has never missed a Fall Fun Festival until last year when Covid canceled the event. The Beardstown High School senior was devastated that the pandemic canceled so many things, including the festival.
"Despite the previous year with the coronavirus pandemic, I am glad we're back. The festival brings people together to have fun with their families and friends such as myself," said Wessel, who is also on the school dance team.
Although the festival wasn't going to be the same with the covid-19 regulations, Wessel was glad the festival happened this year and recommended her family outside of town to come in the following year.
Residents of Beardstown and surrounding communities were glad to see the return of the Fall Fun Festival, marking its 50th year. Organizers tried their best to make the weekend even better and more fun than two years ago.
The festival offers a chance for people to gather at the end of September with bands competing against one another, games for children, vendors, rides and a pageant. The festival started Saturday this year instead of Friday due to some Covid restrictions, but the residents were ready to revel when the parade started Saturday morning.
After the announcement that the festival would return, vendors and attendees were quick to want to join the festivities. For many, it was a return to the festival, but there were also plenty of newcomers.
Erica Cummings attended for the first time to promote her product, Color Street.
"I came here to sell my product to have my business running, but coming here for the first time makes me happy seeing everyone appreciate the festival," Cummings said. "I would defintely come here the following year if Covid isn't stopping it from happening."
Others did not enjoy the festival as much because of mitigations. People inside buildings were required to social distance and wear masks. Organizers also offered fewer rides for children and fewer food vendors, with stands set up farther apart than normal.
Some attendees said the festival would be bettter with more things and not so much distance. They also didn't like the Saturday start time, over Friday afternoon.