Environmental Club returns with focus on service projects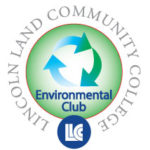 Lincoln Land's Environmental Club is back in full swing after an almost two-year hiatus. 
Club President Anthony Lamb explained: "We're taking this club out of the grave essentially. It was dormant for basically two years and we're just trying to find our feet this year. Hopefully the next few semesters we'll be able to get things back to normal." 
Although it has been inactive for almost two years, the group is making great strides in reviving the club. 
This semester, the club is going on field trips to the Bremer Wildlife Sanctuary and the Nipper Wildlife Preserve to learn about Illinois owls, Illinois prairies and to do some hands-on exploring. They are also planning an Adopt-a-Highway project for November, but the biggest project the club is working on is recycled journals.  
"What we do is take paper, recycle it and then turn it into journals to sell back to the students," said Lamb about the project. They plan on selling the journals as the club's first fundraiser this year. 
Biology Professor Becky Croteau, who advises the club, said the club's goals are completely up to the students. 
"The group we have now is really interested in doing some service work," she said. "Especially if it's environmental stuff. They're interested in learning and they want to travel." 
Lamb said: "One of the main goals of the environmental club is to promote awareness of this wave effect that things have. That's the thing we want to uncover and make light of with the Environmental Club. Promoting awareness of what affects humans have on the environment, and to just get humans out in nature in a healthy way." 
Club Vice President Ella Saxe also discussed the club's goals. 
"Our goal for the club specifically is to give back for our environment locally and nationally." 
She added "To keep [the environment] healthy and thriving, we have to do our best to protect it while we can." 
The club is important to environmentally conscious students. 
"We're at a really critical time in the history of the planet and our relationship with it," Croteau said. "It's important to learn about that relationship and places where we might need to remedy it." 
She continued, "It also gives students a chance to meet themselves in nature because when we don't get out into nature, there's a part of ourselves we can't really access very well. It's my hope the club gives people those opportunities to be in deeper contact with the other life on the planet and in turn with their own selves." 
The Environmental Club is open and accepting of all students. The leaders of the club simply want others to appreciate and care for the environment they live in, and as Croteau put it most importantly, "Everyone's welcome."