No honor in lying for a scholarship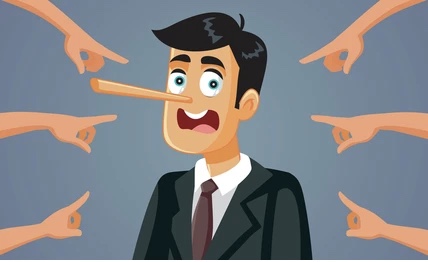 Factors such as honesty and hard work may have been perceived by some as keys to success, but apparently lying is giving both of them a run for their money.
According to a survey conducted by Intelligent.com, 34% of 1,250 white college students lied about their ethnicity in order to increase their chances of being accepted into college or to receive minority-based financial aid benefits. Fortunately for these students, no DNA tests were conducted, as 77% were accepted by the colleges that they lied to.
"It makes me feel frustrated, but I don't really know if I'm surprised," said Kimberly Brock of Los Angeles, California.
As the primary ethnicity that these students chose to lie about was Native American (48%), Brock said that this form of lying is akin to treatment that the Native Americans received from European colonizers.
"Since this country was 'founded' by white men, the fact that some are pretending to be Native American, Hispanic, or Black exposes that they may not have what it takes to further themselves. If they feel like they have to lie, scheme, cheat or be deceptive in order to get the things that they want, I feel that parallels how the European colonizers treated the indigenous people here in the states in order to acquire the land," Brock said.
Junior Peña of Armona, California is both of Native American and Mexican descent, the leading choices of false ethnicities chosen by students according to Intellligent.com's survey. 
"Contrary to popular belief, not every Native American lives on a reservation, and the ones who don't do not get money from casinos or the tribes because our tribe's history was erased. So lying to the system and identifying as a Native/Hispanic when you aren't one, is kind of offensive," Peña said.
Despite being dissatisfied with the deception of these students, Peña also portrayed a sympathetic side as well, but not with complete leniency.
"With that being said, if a white student grew up in a low-income household, I believe they should be able to get benefits/financial aid like us, but identifying as a Native/Hispanic to get it just throws the whole statistics off and makes it incorrect," Peña added.
Not everyone took such lenient view toward this lying.
"As a person who is mixed, but looks white, (I feel that) people who take advantage of this system and lie about their race are preventing my own people from reaping the benefits that they deserve," said Dennis Harding Jr. of Springfield, Illinois.
Perhaps the most passionate about this scandal, Harding suggested some very strong proposals to combat this type of lying for future references.
"I personally believe that anyone caught doing this should have their tuition immediately terminated and all credits erased (if they have any) because you can't go to school lying about your identity and expect to get all the points from it," Harding insisted.
Harding concluded that he feels there is a lot more that people could do to prevent things like this happening, but feels as if "a lot of the colleges just do not care."
One may theorize that some form of DNA test may be incorporated into the process of applying for college in the near future. The actions of the students that lied about their race to get accepted into college before possibly receiving degrees, thus paving the way for great opportunities exhibits that some people are not willing to actually do the work that is often required to succeed. This also downplays all of the work that some students have done or may be doing to get scholarships of their own, especially if they end up unable to get them in comparison.