Festival welcomes cultures to campus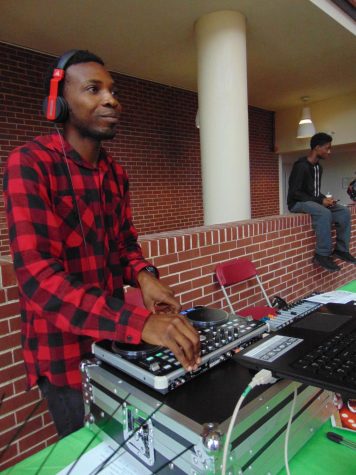 SPRINGFIELD –Alex Khayyat was glad to share his native culture with Lincoln Land students on Oct. 4.
"Since I was adopted from Lebanon, it's really cool to see where I come from and to be able to celebrate my native culture," said Khayyat, who was sitting at the table for the Islamic Society of Greater Springfield's table in the A.Lincoln Commons.
That table was one of dozens that lined the Commons, giving Lincoln Land students the chance to learn about the diverse culture of fellow students and community members. The Multicultural Festival is an annual tradition at the college, offering information, music and food.
Also at the Islamic Society's table, Shabana Arshed was answering questions visitors had about the Muslim faith.
The table included a variety of artifacts that show how people worship around the world. There was also evil eye glasswork from Turkey, prayer beads from Afghanistan and her daughter's traditional outfits.
Arshed said it was her "mission to help make people informed of Islam and get the truth."
Toward the back of the Commons, music was being played, along with cultural musical performances. In that area, a group was there to showcase belly dancing.
Jody Rentschler started dancing nine years ago  when she was looking for a yoga class to attend.
The belly dancing class popped up instead, she said. That scared her, but she saw that as a challenge to her to do it.
Anyone who is interested in joining the community, she said they should really just get out of their comfort zones and just enjoy it.
Among the various cultural groups was the college's Ag Club, which had members there to talk about genetically modified organisms.
"So many people are told that GMOs aren't good for you," student Kylee Fields said. "It's because farming and ag get a pretty bad rep, but honestly, without them, where would we be? Naked and hungry."
Speaking of hungry, the event featured free food that was definitely what won over the crowd. The food was situated near the registration area just inside Menard Hall. The line to get to the buffet of food wrapped down the hallway and did not decrease all afternoon.
Participants got the chance to try chips and salsa, egg rolls, enchiladas, an Indian dish, naan, mac 'n' cheese, greens and much more.
This was Javan Meints first time experiencing the Multicultural Festival, he said.
Meints said he really enjoyed the diversity and how it brought students together.
Shyanne Shymansky can be reached at [email protected].