Black Sheep on the verge of closure
The Black Sheep Cafe may be forced to close its doors if the community does not come together to support it, owners said.
The venue has faced a drop in attendance in recent years, leaving it difficult to keep the doors open.
"In terms of show attendance, finances, and overall support right now, Black Sheep is doing very bad," stated Brian Galecki, co-owner of the Black Sheep and Dumb Records, in an Aug. 22 Facebook post. "We are not sure at this point how much longer we are going to be able to keep our doors open."
Galecki co-owns the venue with Clare Frachey, Drew Kodrich and BJ Pearce.
The Black Sheep has provided people of all ages a space to enjoy live music since September 2005. So when he announced the possibility of closing its doors, Galecki was clear that the owners do not want to resort to starting a GoFundMe or a Kickstarter page to raise funds.
"It's super awesome that people want to support us financially. We totally are receptive to that, but if they are throwing money to an empty room, basically, it's going to be fruitless in the end," Frachey said.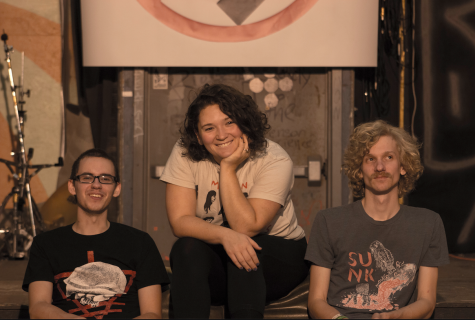 (Left to right: Drew Kodrich, Clare Frachey and Brian Galecki.)
In the 12 years that the Black Sheep has been open, it has seen multiple generations of music lovers come and go. But recently, it has seen a drop in the presence of youth, specifically high school and college-aged patrons.
"We always have gotten, it seems more or less in the past, high school -aged kids to come in and start to make the space their own, they start to take the reins. That's just something that is definitely lacking right now," Frachey said.
"I think that when Black Sheep first started in 2005, the Internet was around of course, it was 12 years ago. It was much closer to the 90s, the big punk wave was a lot closer too then. It was much more of the norm to be going to shows for a lot of the youth. That's what I remember doing in middle school and high school. I just don't think as many of the youth are starting bands, and that is something they should want to be doing." Galecki added
Even with possible closure on the horizon, the Black Sheep plans on conducting business as usual. They have a lineup of shows extending to November 2017, including an anniversary show on Sept. 16, the annual Band Lotto coming in November and Looming with the Screaming Females on Oct. 2.
Galecki expects a sell out for the Oct. 2 show.
"Looming is a band from here that is probably our biggest hometown export right now,"   he said. "It's what we are looking for but, more of what we are struggling with is the average show here. With all this attention we're getting right now a concern of ours is that so many people are going to go to this one big show and not really pay attention to anything else we have going on."
While the Black Sheep may be in need of help, vinyl has become a re-emerging market in 2017 , and Galecki is more than thankful for that.
When asked if a Black Sheep closure would affect the status of Dumb Records, he said: "I'm going to ahead and say 'No.' Even though the Black Sheep is doing poor in attendance that does not mean that Dumb Records and the recording studio is doing bad. This past record store day was the biggest day we have ever had inside Dumb Records! I wish I could devote more time to the record store. Keeping things balanced is tough when one thing is struggling."
For those wanting to support the Black Sheep, the owners said the best way is to come out to a show. A list of the Black Sheep's shows can be found at the venue's website www.blacksheepspringfield.com.