Coakes to retire after 16 years of memories at LLCC
All good things must come to an end, and for Art Professor Michelle Coakes, that includes her time at Lincoln Land.
Coakes, who teaches ceramics, began at Lincoln Land in August 2002. Before that, she taught at a few other schools, including University of Louisville, Western Kentucky University and Highland Community College in Freeport, Ill., she said. But she never taught more than four years at any of them. This has been her longest stay, but after 16 years, she will be retiring.
On Feb. 1, dozens of people gathered for a final reception of Coakes' ceramics work, displayed in the James S. Murray Gallery. "A Fire Within: New Work by Michelle Coakes" gave the community a chance to see her latest work and wish her farewell.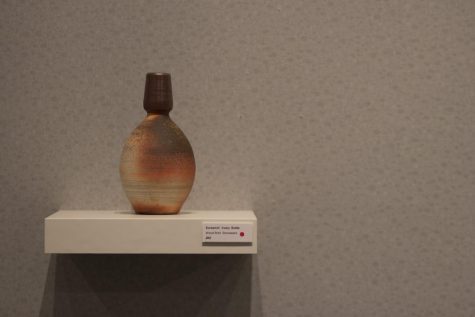 "The colors are really interesting. Simple, but they stand out," said Liz, an art appreciation student at Lincoln Land who attended the gallery.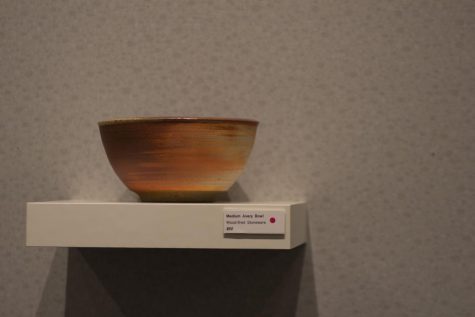 One of the colorful works was "Screamin' Avery Bottle." The dirt, called Avery, came from a mountain in North Carolina. She purchased the dirt years ago, and it was known to turn a beautiful orange in the kiln.
She was pleased with the outcome, and she said she was lucky to have the dirt because that mountain and dirt has been fully mined and sold.
Coakes said she is proud of teaching students how to do pottery, but also to have inspired them to love ceramics.
Many students have kept in touch, she said.  Her students always remembered her name after they took their hands from the dirt and clay at Lincoln Land.
But there are also some low points in her career.
Coakes lost her dog at the end of one semester, and she canceled class because of it. That day also happened to be the semester's cleanup day, in which the entire studio must be cleaned. It is one of the most important days of the semester.
Coakes decided she would do this task by herself, but many of the students who were told class was canceled decided to show up anyway, Coakes said.
That crisis ended up being a moment when students stood with her in support by helping her clean up the classroom, said Coakes, who began to tear up at the memory.
It was always the small things that mattered, Coakes said.
Coakes said she prized the camaraderie that was formed in the classroom. Each group had its own dynamic, and the jokes created a unique atmosphere and experience each semester.
Coakes recently built a wood-fired kiln at her home northwest of Taylorville. That kiln was used to create all of the art in her recent gallery show.
Coakes plans to continue creating ceramics at a business she opened there in 2013: Bad Wolf Pottery.
The store and studio, which also offers pottery classes, is usually open 10 a.m. to 5 p.m. on Saturdays. Visitors to the Bad Wolf Pottery can follow the signs from Illinois Route 29 to 824 E. 1800 North Road in Taylorville. It can also be found online at www.badwolfpottery.com.
Leo Borgelin can be reached at [email protected].