USA brings home the gold after Winter Olympics
There were lots of firsts at the 2018 Olympic winter games in South Korea. One is America's first gold medal, which was awarded to 17-year-old Red Gerard in snowboarding slope-style. This year's games also brought about new events for Gerard's sport too. Four new Olympic events were added this year including big air snowboarding, big air freestyle skating, mixed doubles curling, and mass start speed skate races.
A different, but perhaps even more inspiring first would have to be the first openly gay athletes for the USA, Gus Kenworthy, (freestyle skiing) Adam Rippon, (figure skating) and the first black women to make the speed skating team, Erin Jackson, and Maame Biney. Other countries had firsts too, such as Pita Taufatofua, the first athlete from Tongan to compete in both the summer and winter Olympics.
Through these three weeks of determination and hard work, athletes and coaches from all around the world have inspired future winter Olympians and spectators alike. Their hard work, determination and endless hours of practice have brung people that they may not even know to tears when they broke a personal best or won those coveted medals that only so few in each sport get. So we should all take a moment and look back on some of the best moments from the 2018 Olympic winter games.
One of the most thrilling things to watch is the narrow close or best calls. NBC sports best calls and favorites were as followed. In Men's Skeleton, Yun Sungbin of South Korea won the gold and also set a new track record. The closest call would be the Men's biathlon where it was quite literally a photo finish. Martin Fourcade won the gold for the French team in a very stretched out ski match, with Sweden bringing home the silver and Italy taking the bronze. Germany won a gold medal in bobsledding, but so did Canada, leaving underdogs such as Latvia with bronze and no sliver. The last and my personal favorite close call were Jessie Diggins winning the gold for Team USA making some of her own U.S Olympic history.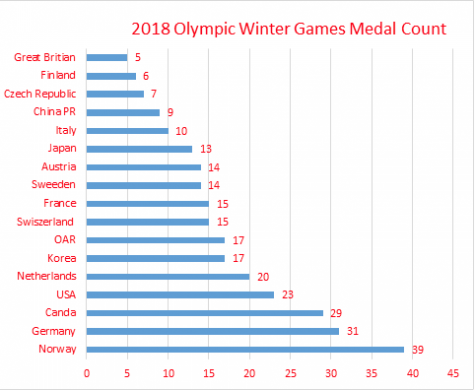 In conclusion, we should try not to forget some of the older Olympians who have inspired many spectators and athletes in their sport. Lindsey Vonn and Shaun White who both went home with medals, Vonn took the bronze in the Olympic Downhill competition, and White won the gold in men's halfpipe. That's one, two, and three gold medals for White! We could not talk about Olympic snow without mentioning Nick Gaper, who won a silver in ski slopestyle. Expect to see him in Beijing in 2022! Finally, the Shib Sibs, Maia and Alex Shibutani, ice skated their hearts out to win two bronzes one for Team USA and one for themselves in the ice dance competition. These performances brought so much joy, love, and unity to the world that seemed very divided and complicated. But isn't it so nice to have big stage events like these to celebrate the best of best in sport? I think yes because even though the Winter Olympics are only 3 weeks long, it such a beautiful thing to be united in cheering and happiness on the world's stage.  
Tess Peterson can be reached at [email protected]