Coach Chad Jones discusses his passion for basketball
Men's basketball Head Coach Chad Jones has been at Lincoln Land for a long time and we are so lucky for it. According to lincolnlandloggers.com, he has helped the team record its first ever back to back 20 wins seasons in 2004-2006, while also teaching physical education classes. I recently got a chance to interview the coach.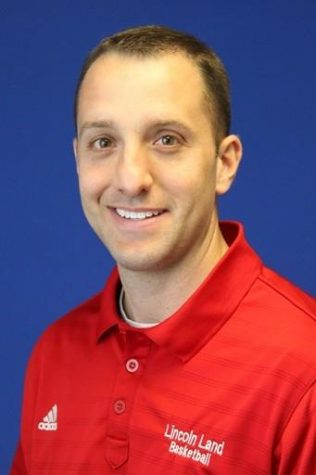 How did you get into basketball as a kid?
Chad Jones: When I was in third grade a traveling team in my hometown of Canton, Illinois was looking for a coach for the basketball team. My dad eventually took the position and ever since then I feel the love of basketball and have played ever since. My junior collegiate basketball career started when I was at Danville community college, then I played for the Leathernecks at Western for two years.
What made you want to want to make the move to coaching?
CJ: Basketball has always been a great joy of my life, and coaching just seemed like the perfect fit. Before working at LLCC worked at Canton high school as an assistant coach and then I worked at Western for the same job.
How did you make the decision to work at LLCC?
CJ: My athletic director, John Spzia, from Danville told me about the open coaching position coaching job at LLCC.
What are some of your coaching techniques?
CJ: Lots of the techniques that LLCC uses are old school techniques, but we definitely keep up with the fast pace of new ball techniques.
How do go about scouting?
CJ: Technology has helped us a lot with YouTube videos of players and statistics. We also look at what type of student our athlete will be. Also, we are unique and look for more local players in central Illinois and the surrounding areas.
How do you manage your time between coaching, family life, and the classes you teach at LLCC?
CJ: My son Josh plays a lot of sports right now, but try to make to as many games I can by having early practice (for the LLCC basketball team). Also, basketball is a family affair and my wife (Nicole Mann) is a very good basketball wife. It is also very nice to have most of my summer free to spend time with my family.
While in college at Jones earned a bachelor's in business and masters in sports management.  You could also say he found his love for coaching while teaching at his two Alta maters Canton High School and Western.  
Source lincolnlandloggers.com