Aspiring political leader in Springfield organizes event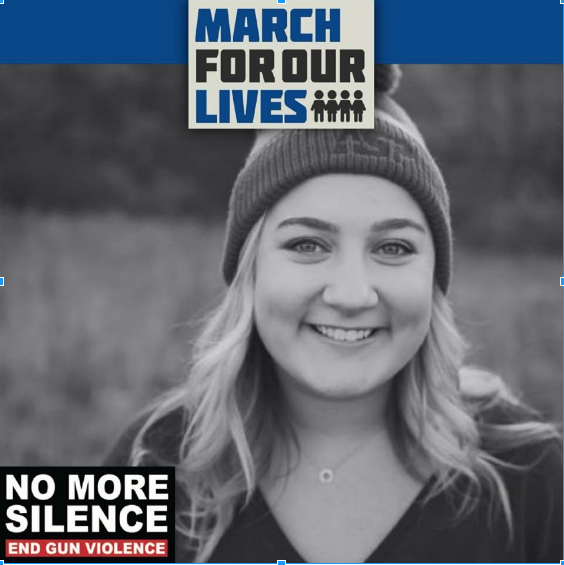 SPRINGFIELD – LLCC freshman Emma Shafer is already busy at work at LLCC and beyond.
Shafer's passion for politics is quite evident in her daily life, as she is currently interning for Senator Duckworth in her Springfield office, and leading the Students Demand Action for Gun Sense (SDA) Springfield chapter while also juggling a work life outside of politics by nannying three kids.
While being involved in SDA, she was a student leader in the "March For Our Lives" event right here in the capital. During the March, she encouraged students to join SDA. She captivated the crowd even on a cold rainy day!
Shafer said she prepared for the speech by compiling a list of reasons why you should join SDA and talked about why it is important to participate in causes like this after the big rallies to keep the motivation alive.
After attending Springfield High School, Shafer thought that LLCC was the right choice for her.
"After high school, I was unsure of what path I wanted to take in my life," Shafer said. "I chose to go to LLCC because it offered me the chance to figure out what I want to do, and where I wanted to eventually go. I now have had the resources and experiences to be prepared to go forward."
Shafer is pursuing an associate's degree in the arts, with an emphasis on political science.
After LLCC, Shafer's dream is to attend Hunter College in Manhattan.
"I really want to go to school in New York City because it is a city that has a history of successful urban planning. Hunter College and numerous others in NYC offer programs in this area," Shafer said.
When Shafer was younger, she wanted to pursue urban planning, but now as she is older, she has decided that urban studies is the perfect fit for her because it combines both sociology and urban planning. She said loves that more than an urban planner desk job.
After college, Shafer said, "I would love to live here in Springfield, and even be mayor. That would be a dream come true!" Emma is also very involved in her church, Westminster Presbyterian.
Tess Peterson can be reached at [email protected]