Passion turned profit by Sangamon CEO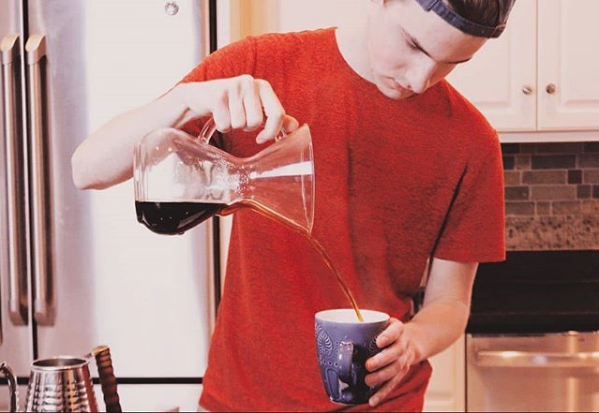 Have you ever wanted to start your own business, or maybe be a part of one? Well,
Joe Monke is your guy for advice on how to put your business idea into action.
Monke is currently involved in a one-year study of entrepreneurship called Sangamon CEO. This is a program for high school seniors looking to pursue their very own business plans. For the first half of this program, the new and aspiring entrepreneurs take tours of local businesses to gain knowledge and come up with their own businesses ideas.
When it came time for Monke to choose what his company would be, he found that his love for coffee and lack of knowledge on the part of today's average coffee drinkers would be a perfect idea.
"I wanted to create a company where I would increase knowledge on alternate brewing methods that people can do at their homes," Monke said.
This is where CupAJoe Coffee was founded. His company has two different facets.
First, a coffee bar for events such as wedding receptions or graduations. The second
is holding coffee workshops where he teaches hand-brewing and pours overs while selling his clients the pour-over kits for their homes.
Joe runs his company with his business partner, Marley Stubblefield, who handles CupA Joe Coffee socials and helps with graphic design, Joe graduated high school early from Pleasant Plains High School and is taking classes here at Lincoln Land. At LLCC, Monke is pursuing an associate's degree in the arts with a focus in business.
Next, Joe would like to study international business, his dream school is the University of Tasmania.
After taking a year or more abroad, he wants to attend Missouri State University.
I want to be a coffee importer in Seattle because that is the coffee hub of the world," Joe said of his future goals.
As for plans for CupAJoe Coffee, Joe says that all depends on how well his company does revenue-wise. This summer, Joe, and Marley are working on strategies to improve the business.
In meantime, you can check out their company by following them on Instagram (@ cupajoecoffee) or by liking them on Facebook (@cupajoecompany) to hire them for your next event or workshop.
Tess Peterson can be reached at [email protected]