Buzz Bomb Brewing Co. opens downtown
SPRINGFIELD – The semester is finally coming to a close, so it's time for some good brews. This summer, downtown Springfield's craft beer scene will be at the apex of activity. On March, 28, one business has brought their passion for craft beer to the citizens of Springfield.
On the corner of Adams and Fourth street sits Buzz Bomb Brewing Co., run by four partners, which includes Bill Larson and Josh Flanders. The idea of Buzz Bomb started during the Springfield Oyster and Beer Fest in September 2016.
"We got a great public reaction to our beer, and that's when Bill and I started writing our business plan. By December of that year, we had found this building. We closed on it, pretty much that last day of the year, and it took about 14 months after that to get this place open and going," Flanders said. Buzz Bomb's aesthetic is a unique mixture of industrialism and polish. The right side of the ground floor is lined with an Edison bulb mural. Iron pipes connected to light bulbs that provide a comforting yellow glow.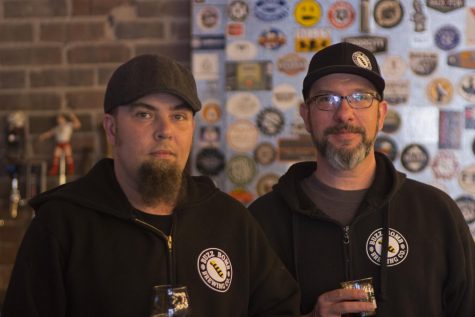 While all of their beers are popular, the Hoppy Bukkake (yes, that's the name), a single malt-hop American pale ale, and the Han Gruber, a German kettle sour. Buzz Bomb has provided a total of 15 beers since they opened in March and are currently serving eight on tap. The process to reach these finished products took several years. Larson started brewing mead, fermented honey and water before he took the step into the realm of yeast. He says that he spent a year and a half using basic brewing kits before he transitioned to all grain brewing.
"There is a lot of the same motions between brewing beer and brewing mead. Brewing mead is where I learned the sanitary process. Once I changed to beer it becomes a different ball game where you are actually creating sugars from grain."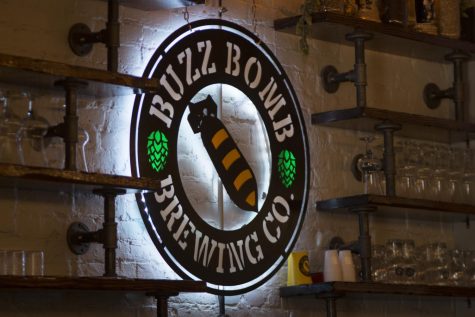 Buzz Bomb also shows its love for honey. Flanders explains that they will use different kinds of honey in the brewing process such as Orange Blossom honey or Wildflower honey.
They serve brews by the pint, half pour or taster. No pint costing more than $8 and it is B.Y.O.F. (Bring your own food) because Buzz Bomb does not have a kitchen.
Flanders and Larson advocate bringing in food of all kinds.
Buzz Bomb is open Fridays from 3 to 11 p.m. and Saturdays from 11 a.m. to 11 p.m.
Niko Robledo can be reached at [email protected].