LLCC employee trains service dog for self, others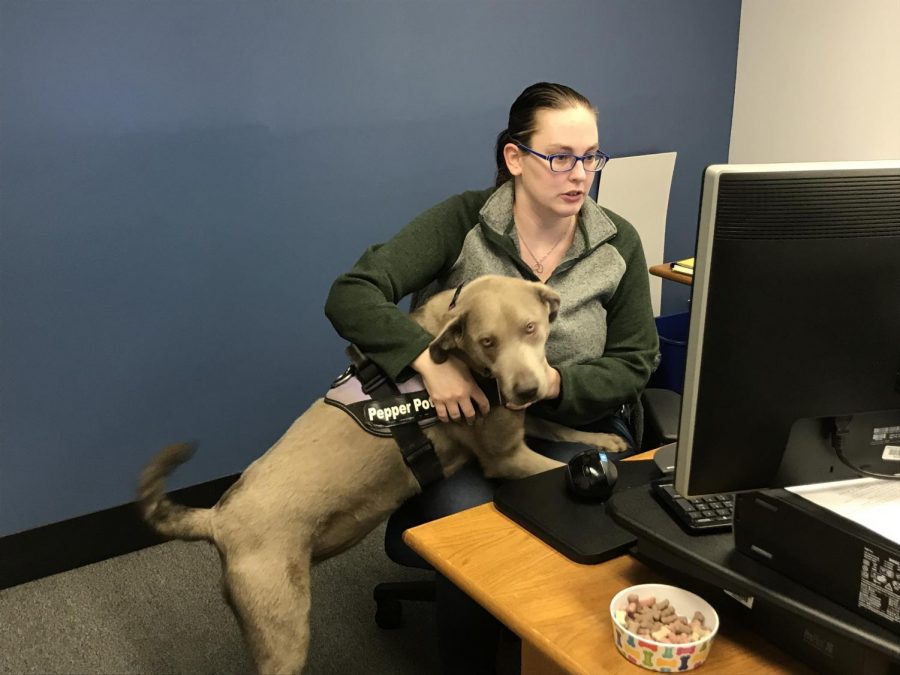 Olivia Hoots, Lamp staff
May 6, 2019
Imagine having anxiety and being in a public place where something happens that reminds you of a time in your life you would rather not remember. Then, your service dog guides you to a comfortable seat, puts you in a sitting position and performs specific tasks, such as putting its paws on you and licking your face and hands in order to help you cope.
This is what Kari Grafton's, Lincoln Land Community College's Research and Analytics Associate, service dog Pepper Potts has done for her.
Earlier is Grafton's life she worked at a store that was robbed at gunpoint twice.
"It had gotten to the point where I couldn't go out on my own." Grafton said.
Grafton had other dogs before but never a service dog. She had trouble getting a service dog because "getting a fully-trained service dog is very expensive" she said. Instead, Grafton decided train a dog for herself. Grafton interviewed breeders, talked to a vet and accomplished training a dog herself.
"Pepper gave me my life back," she said. "She is the reason I fell in love with training dogs."
Pepper's "primary tasks are to watch for PTSD or anxiety attacks," said Grafton.
Not only has Grafton trained Pepper, but she has also trained three others. Gannon is another dog Grafton has trained. Gannon specializes in human remains detection, nosework and open-barn hunts. In terms of human detection work, Grafton said, "If something comes up in my area, they can call me out to go work on a search."
Grafton's third dog was a "service dog for a girl with autism," she said. Grafton got the dog at a shelter. Grafton focuses her training "psychiatric work and scent work."
"I am on my fourth one," Grafton said, "I am still pretty new at training."
That dog, named Zelda, is 8 months old and being trained for psychiatric and retrieval tasks.
"There's a lot that goes into it," said Grafton. Grafton gets the dogs at about 8 weeks old, and Grafton will "start training pretty much immediately," she said.
Grafton teaches the dogs commands for going to other rooms. If you tell the dogs a specific room they will go to that room, she said.
Grafton also teaches her dogs bite inhibition. Grafton said
"I teach mine how much is OK," she said.
Grafton gives the dogs a good "ouch" sound, so the dog knows when their bite is too hurtful. Grafton said that the dogs must "know how much is too much" but still need to bite in order to defend themselves. Grafton mentioned that her dogs Pepper and Gannon don't do it but she had one dog that would grab her by the hand with its mouth and lead her.
Grafton also likes to train her dogs by playing a bunch of little games with them with scents. Grafton puts different scents on Q-tips in containers and hides them for her to find. Grafton begins with lots of a scent and then works smaller with the amount of scent she puts on the Q-tip.
"Once they learn how to find a scent," Grafton continued. "Each subsequent scent is easier and easier."
The dogs begin the Q-tip training inside, but as they advance to detection work, it can be outside.
It "could be anywhere," said Grafton, and we "have a number of places that we practice."
One place Grafton likes to take her dogs is to a junkyard where they can work on searching through vehicles. There is also a 30-foot pile of rubble where the dogs can look for scent, she detailed.
Another important detail about training service dogs that Grafton emphasizes is that "if it's pouring rain outside or you have a broken leg, you train the dog, no stopping."
The only time Grafton does not train is during recovery after the dogs have been spayed or neutered.
"There is a lot that people don't think about" Grafton said. Some of the things she mentioned were if the dog must go to bathroom or there is hot pavement.
Also, Grafton wants people to know that when someone has a service dog, the owners have to remember that they are now about a foot wider and a foot or two longer, so it is harder to maneuver through large crowds.
Grafton likes to participate in dog sports. She said that it is good for bonding and learning. It also consists of different training styles and helps to show how dogs learn, Grafton said.
Someone who Grafton has trained with and learned from is Susan Duke, a wildlife grant administer for the Department of Natural Resources.
Duke has trained DSD, Disaster Search Dogs.
"Being an animal lover, I had trained horses and some dogs," she said, "I decided to try training a DSD.
Duke said she "also got into breeding search caliber dogs" after finding out how difficult it is to find the perfect dog.
"I breed German Shepherds as Cadence Shepherds" Duke continued. "The next litter of high-powered dynamos is due the first week of June 2019."
Duke also mentioned that most of the dogs she has bred are public service dogs that have seen work as search dogs or as police canines.
"One of my pups was chosen as AKC Ambassador to U.S. Congress one year." Duke said.
Duke said she has "trained with the National Association of Search and Rescue (NASAR) and eventually attained the highest certification level.
"Service dogs change lives for the better. Regardless of their job," Duke said. "The tasks they perform enable humans to live a better life. They are the great equalizer."
Duke has greatly influenced Grafton, who wants people to know her story and understand the purposes for service dogs, as well as the hard work that goes into training them.
One Lincoln Land student who has a service dog said, "They help their owners who need them, and they're not just pets. They're more than pets."
Lincoln Land Community College allows service animals on campus. Students who own service dogs are encouraged to identify with Accessibility Services to see that the dog as a service animal is required and to see "what work or task the dog has been trained to perform," said Kim Eddings, the LLCC Accessibility Services coordinator.
LLCC Accessibility Specialist Kim Alexander said that "students utilize service animals for a variety of different reasons and purposes to support them in daily living."
Service dogs are a big part of so many people's lives no matter where you are. However, people who do not own service dogs do not always understand their purpose or know how to behave around them.
"I wish that they would teach us more about why people have service dogs and their etiquette," said Sage Gass, a Lincoln Land student.
Grafton hopes to change this common outlook. Grafton has brought her dogs to Lincoln Lands Welcome Week and set up tables as well as demonstrated scent work. She plans to bring them back to Welcome Week this coming fall, as well.
"I go to schools and talk about what they do" Grafton said. "I give some demonstrations, stuff like that."
Grafton also wants people to know the etiquette and shares that on her website trainingsuperdogs.com. The website says, "The public should not touch, make noises at, or call at the dog" among other things because it can be distracting to the dog when the dog is trying to perform its duties.
Service dogs are a big part of their owners' lives. They have a greater purpose than regular dogs because they're doing a job every day. They help Grafton when she is in need, and Pepper needs to be with her when she is in public or at work.
Grafton always brings her dog to the college. Her job at Lincoln Land requires her to take the data the college has on itself and find data from other colleges and study it.
"Most of what I do is for reporting on decision making," she said.
"Pepper is always a participant in IR meetings, and she always puts smiles on our faces," said Cody Cox, LLCC statistician and co-worker of Grafton. "Kari is a very hard worker, and she is a good member of our team."
Grafton has not allowed one part of her life to keep her from functioning just like everyone else. Pepper has allowed her to have job at Lincoln Land, and she has used her experience to motivate her to train other service dogs.
"Pepper literally gave me my life back," Grafton said. "Before I got her, I had gotten to the point where I couldn't leave the house by myself except for work. Since getting Pepper, I have been able to live normally again, just with a dog as my sidekick. "
Olivia Hoots can be reached at [email protected]