Gallery story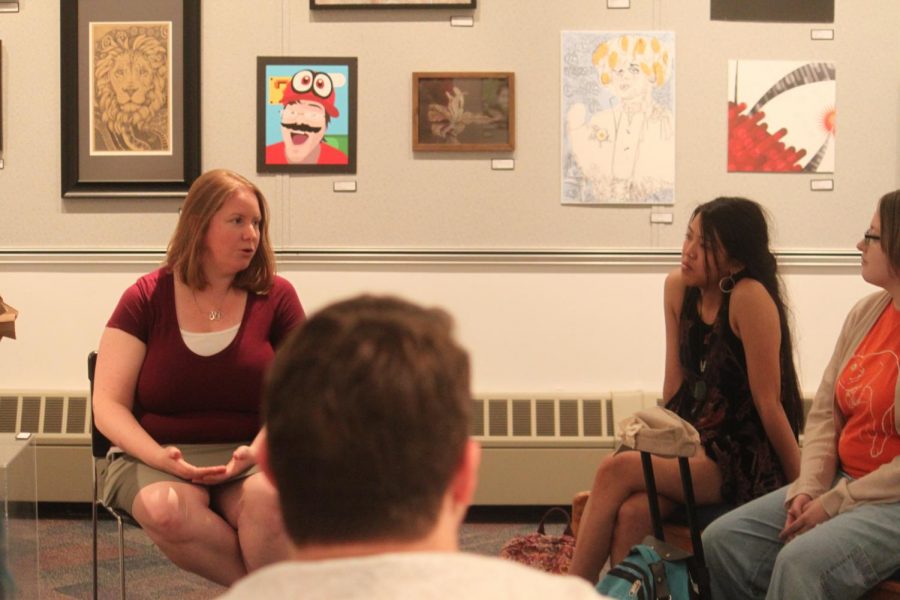 Sage Gass, Lamp staff
May 8, 2019
Pick up your pens, your pencils and brushes — the art show is officially in town.
The annual juried art exhibit, which opened in April 2019, showcases LLCC student work. Students submitted up to four pieces from their time at LLCC. The mediums can range from drawings, paintings, sculptures, digital art, to even photography.
For some students, such as Krysla Beahringer, the art show brings the opportunity to showcase a specific medium. In her case, it is photography.
Starting as a hobby on her phone, Beahringer became invested in the medium after taking a class with Emily Thompson, an adjunct instructor at LLCC, and was inspired to further branch out on her own and take her hobby more seriously.
"It can take up a week to shoot something," says Beahringer. "And then about two hours to edit on average depending on what I'm focusing on at the time."
Most of the time, finding something to photograph isn't the hard part — it's who.
The subject she finds herself photographing the most? People. Many of Beahringer's photos feature prominent people in her life, and she uses her photographs to highlight the special parts of them that maybe they can't see themselves.
"I like to make them look like how I see them," says Beahringer. "Because beauty is in the eye of the beholder."
For other students, the art show is something they look forward to, and they work hard to select their best work. It can be hard choosing just four pieces.
"I would never make something that I wouldn't be proud enough to showcase," says Charissa Fox. "That wouldn't make sense."
Fox herself doesn't focus on one type of art but is a self proclaimed "jill-of-all-trades" and has skill in multiple areas. Her favorites are drawing, photography and sculpture.
The focal point in Fox's art can range based on what she was asked to do in class and what inspires her, but she said she puts her all into every piece.
"This is just something I've been doing my whole entire life," says Fox. "For as long as I can remember doing it."
This also isn't Fox's first rodeo; this is her fourth time submitting work into the exhibit.
The show is also a great chance for non-art students to be encouraged to take a leap and put their art out there for others to view. It's a way to not only celebrate what they've worked on all year round in their classes (and outside for some) but a way to have their work critically assessed in a professional setting.
"I personally wish more traditional students would enter the show," says Leslie Slater, professor of art. "We have many talented students, and they don't always want to take the chance and enter, but they should."
Students like Maggie Miller, who is just entering for the first time since she's been at LLCC.
"It's an outlet for me," says Miller. "Art brings me peace. I'm happier when I'm creating."
Miller's art often features a theme — her love for nature, traveling and the culture of the world. She emphasizes that art is a form of self love, and self love is the most rewarding love you can give yourself.
"I have one piece I'm submitting that is a silhouette of my face," says Miller. The face itself is split into panels and showcases different part of her ancestry within each section.
For many of these students, like Beahringer and Miller, art can transform from a hobby to a passion with simple guidance from the right professor or push in the right direction from just taking a simple drawing class.
With a show featuring so many types of art from such a diverse range of students, one may wonder how an event like this is judged.
First, a juror who doesn't work within the school is chosen. This is so students are given an authentic, unbiased opinion on their submitted work to offer the full experience of getting their art judged — ensuring a fair competition.
"The art show is to give the art students a real-life experience in entering a juried show," says Stalter. "Juried shows are a common way for artists to get their name out their and their work shown. The only difference is that our show is free, while most juried shows have an entrance fee."
This year, the show is being judged by Corrin McWhirter, who is the Springfield Art Association gallery director.
The exhibit is open until Friday, May 10, in the James S. Murray Galler,y as well as extending down the second floor hallway in Menard Hall.
Sage Gass can be reached at [email protected]