New Faculty: Bailey Shaw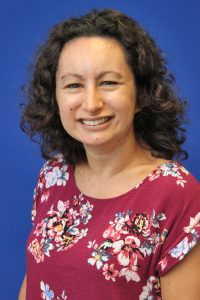 In hopes of getting to know them better, The Lamp asked new Lincoln Land faculty to fill out a questionnaire. Bailey Shaw, a new English Instructor, gave us unique insight into her life.
Do you like Cubs or Cardinals? Or other?
The Cubbies, no question. (Go Rizzo!)
Where is the farthest place you've ever traveled?
In high school, I traveled with my Spanish Club to Spain. We visited the major cities of Madrid and Barcelona, as well as some smaller towns. It was a great opportunity to immerse myself in the language and culture.
If you could go anywhere in the world, where would you go?
I would love to visit my mother's country, Vietnam. My mom emigrated from Saigon (now Ho Chi Minh City) in 1975.
How would you spend a billion dollars?
I would pay off my student loans and other debts, of course. And I would take my family on a big destination vacation with lots of good food.
Are there any historical figures you'd like to meet?
The writer Thomas Hardy. He was the subject of my dissertation, a 200-page paper that I wrote in order to graduate with my doctoral degree. After spending so much time writing about the man and his novels, I would love to meet Hardy and get inside of his head. There are so many questions that I would ask him!
As a child, what did you want to be when you grew up?
A dentist, for some reason.
What was your first job?
Does babysitting count? Otherwise, I would say Bath & Body Works.
What was your worst job?
I worked at a fine jewelry store during one summer in college. The job really wasn't that bad, but I hated locking the display cases at night because it would take so, so long.
Did you teach prior to LLCC?
Yes. I taught as a graduate teaching assistant at Southern Illinois University Carbondale and as an instructor at Richland Community College, Shawnee Community College, Rend Lake College, and John A. Logan College.
What degrees have you earned, from where?
B.A., Bradley University, Peoria, IL
M.A., Loyola University Chicago, Chicago, IL
Ph.D., Southern Illinois University Carbondale, Carbondale, IL
Were there any obstacles you struggled with in college?
I really had to learn how to manage my time. Coming from a small high school, I was excited to participate in a wide range of clubs and activities that my university offered.
What was the most challenging course you took in college?
Ugh. Russian History.
Would you share your best college memory with us?
Move-in day. I met my roommate, who would become my sorority sister and a dear friend. I also attended a Welcome block party that helped me to talk to new people and ease my homesickness. I really felt like I was taking the first steps toward being on my own.
Would you tell us about your family?
I have a moderately-sized family and have only one (older) brother. However, I married into a very large family – my husband is the oldest of seven kids!
Do you have any pets?
Unfortunately, no. As a kid, I had gerbils, hamsters, and a cat at one point or another. As an adult, I really don't want to be responsible for the clean-up.