New Faculty: Laurie Lewis-Fritz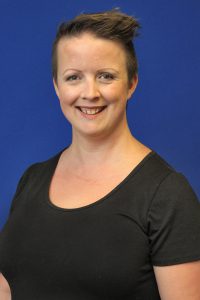 In hopes of getting to know them better, The Lamp asked new Lincoln Land faculty to fill out a questionnaire. Laurie Lewis-Fritz, a now full-time Music Instructor, gave us unique insight into her life.
Do you like Cubs or Cardinals? Or other?
St. Louis Cardinals all the way! My husband likes the Cubs, though. I also love the Green Bay Packers, while he loves the Chicago Bears. We are certainly a house divided!
Where is the farthest place you've ever traveled?
Probably China for a choir tour, though I've also been to several countries in Europe. I love traveling!
If you could go anywhere in the world, where would you go?
Italy, hands down.
Are there any historical figures you'd like to meet?
Elvis Presley comes to mind!
As a child, what did you want to be when you grew up?
For a brief period, I wanted to be an astronaut. Otherwise, wanting a career in music has been pretty constant.
What was your first job?
Hardee's
What was your worst job?
See above—ha!
Did you teach prior to LLCC?
I did! I was the Director of Music at MacMurray College for a few years, and then I was the Lead Faculty for Vocal Performance at Lincoln College. I have also taught part-time at Blackburn College and Benedictine University.
What degrees have you earned, from where?
I have a Master of Music in Opera/Music Theater and a Bachelor of Arts in Music from Southern Illinois University Carbondale. I also have my Associate in Arts and Associate in Science from John A. Logan College.
Were there any obstacles you struggled with in college?
At any given time, I had two or more jobs to pay my way through school. I also struggled with choosing between music and nursing. I guess we know how all that turned out!
What was the most challenging course you took in college?
Anatomy and Physiology, while I was a nursing major. I just could not get it!
Would you share your best college memory with us?
I don't think I have just one favorite college memory. I loved performing and collaborating and adventuring all over southern Illinois.
Would you tell us about your family?
My husband Mark and I have been married for 3 ½ years. My parents, as well as my sister and her fiancé, all live close to St. Louis.
Do you have any pets?
We have George, our 120-pound black lab mix, and Sadie, Ian, and Wonka, our three cats, all adopted from SCAC and APL!