New Faculty: Bridgette Hudson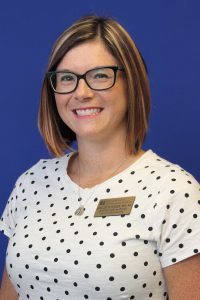 In hopes of getting to know them better, The Lamp asked new Lincoln Land faculty to fill out a questionnaire. Bridgette Hudson, a new Nursing Instructor, gave us unique insight into her life.
Do you like Cubs or Cardinals? Or other?
I don't follow baseball, so I'm kind of sheep and root for whatever the herd prefers 😊
Where is the farthest place you've ever traveled?
Bahamas in college for a basketball tournament
If you could go anywhere in the world, where would you go?
Anywhere, all long as I could take my family.
How would you spend a billion dollars?
I'm very good at spending money 😊  BUT I would most likely secure my family's finances and then go from there. It would want to put it good use to help people!
Are there any historical figures you'd like to meet? 
Florence Nightingale–I couldn't imagine doing what she did as a caregiver in that day in age.
As a child, what did you want to be when you grew up? 
I remember when I was much younger wanting to be a Veterinarian but as I got older, I thought I wanted to be an Art Teacher. In high school is when I made the decision I was going to go into nursing.
What was your first job?
All His Children Developmental Center—Nursery Assistant
What was your worst job?
Cleaning stables at the horse barn down the road from my house growing up, but I got to ride horses in exchange, so it wasn't such as bad deal.
Did you teach prior to LLCC?
This is my first teaching experience at the collegiate level. Most education I've assisted with in my past has been hospital based with Hospital Sisters Health System.
What degrees have you earned, from where? 
BSN—Millikin University; MSN—Walden University
Were there any obstacles you struggled with in college? 
I was an multisport athlete and a nursing student during undergrad, so there was a lot to balance to be successful in both areas, but my studies always came first and my coaches supported me in that goal.  I had to make a tough decision and drop to one sport after my freshman year.  While it was a struggle, it also taught me so much about time management and prioritization.
What was the most challenging course you took in college? 
Med/Surg rotation in my final semester of nursing school at Millikin.  The clinical prep seemed endless and the amount of material covered in such a short period of time was very demanding, but it ended up being my favorite clinical rotation by far!
Would you share your best college memory with us? 
It would be a toss up between my Nursing Pinning Ceremony & the feeling of achievement when I finished nursing school, OR my record breaking run in the 400m hurdles buying me a trip to Nationals for Track & Field.
Would you tell us about your family? 
The husband Ryan and I recently moved to Sherman with our children Beckem, 11, Hazel, 4, and twin boys, Hayden and Brayden, 2.
Do you have any pets? 
Josie & Oscar, our 2 long-haired miniature dachshunds