New Faculty: Matthew Schownir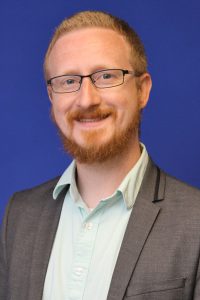 In hopes of getting to know them better, The Lamp asked new Lincoln Land faculty to fill out a questionnaire. Matthew Schownir joins LLCC as a new assistant professor of history.
Do you like Cubs or Cardinals? Or other?
I'm not really a baseball fan, so I'll keep a safe distance from this particular scrum. However, my dad is a huge Cubs fan, and it was fun watching a grown man cry over a sport when Chicago brought home the pennant (and World Series) in 2016.
Where is the farthest place you've ever traveled?
Chicago to Sydney, Australia, equaling 20 hours total on a plane. I don't plan on doing that ever again.
If you could go anywhere in the world, where would you go?
Not Australia! Given carte blanche, I'd probably go to Liverpool, England to watch my favorite soccer team, Everton FC, play.
How would you spend a billion dollars?
I'd buy Everton FC and live my best life.
Are there any historical figures you'd like to meet?
Napoleon would be pretty cool to meet. Same with Lincoln. And Benjamin Franklin. Maybe Rasputin. Joan of Arc, too? Listen, I teach history for a living – stop teasing me and just give me your time machine already.
As a child, what did you want to be when you grew up?
The President of Nintendo of America
What was your first job?
Taco Bell, baby.
What was your worst job?
Taco Bell, baby.
Did you teach prior to LLCC?
I've taught at Purdue University and Huntington University in next door Indiana, and at Jackson College in Michigan.
What degrees have you earned, from where?
History BA from Huntington University ('09), History MA and PhD from Purdue University ('13, '17)
Were there any obstacles you struggled with in college?
Oh yes. I was (and sometimes still am) a slow reader, and I don't process information completely the first time I see/hear it, so I didn't always do great if I didn't allow myself enough time to study. I also had really bad sleep habits, which compounded my study problems. Gradually I recognized and worked on these things and made it through with decent grades.
What was the most challenging course you took in college?
Any math/science courses I took. My brain simply doesn't grasp those subjects very well, even though I find them fascinating and appreciate them more nowadays.
Would you share your best college memory with us?
No, I'd rather not get fired. Joking aside, my time in college was super tame.
However, one of my favorite memories involves sitting down with one of my history professors to talk about careers and how I thought maybe I'd want to teach history someday. The encouragement and real talk I got from my professor set me on the path that led me to grad school, then teaching, and now to LLCC, and for that I'm forever grateful. My life goal is to "pay it forward", and be an encouragement to my students.
Would you tell us about your family?
I met my wife Aaron in college, and we've been married almost 10 years now. I also have two kids, Remington and Adinia, who are 7 and 4 years old, respectively. We love to play games together, watch movies, build Legos, play with Barbies, and splash around in our kiddie pool in our yard.
Sometimes we even let the kids join in!
Do you have any pets?
We have two cats: Petterton, who is deaf, and Gabriel, who we rescued the day we moved to Springfield!