Event helps students dress to impress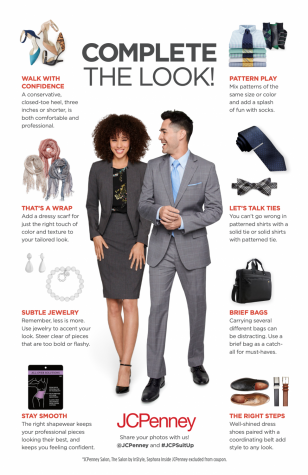 What is the Suit-Up event?
The JCPenney Suit-Up Event is a one-day event forLLCC students to shop at the JCPenney for professional dress apparel and accessories with exclusive discounts not available to the public. Students who present their LLCC student identification will receive a 30% coupon to purchase men's and women's dress apparel to includes items like sport coats, dress shirts, ties, dress pants, sweaters, skirts, dresses, khakis, belts & dress shoes, scarves, and more. Discount savings can be as much as 60% off already reduced merchandise.
The event is planned for Friday, October 25, 2019, from 2-5 p.m. Discount shopping will extend until the close of business at 9 p.m.
Who is this event for and who does it benefit?
The event is an excellent opportunity for LLCC students to receive significant price reductions on professional clothing and JCPenney staff will provide professional style tips and services like:
Measuring station for students
Make-up tips/Sephora mini-make overs
Fun "take the tour" activity to qualify for in-store giveaways
*LLCC Career Services will have a drawing for four $75 JCPenney gift cards. Students will have several opportunities on campus to enter for the drawing (students must be present at the store to win).
Why is it so important for students to know about this event? 
The Suit-up Event is an excellent opportunity for students to learn about professional clothing and style suitable for job interviews, internship interviews, scholarship Interviews, and general business casual and professional wear. Confidence is the key to successful interview results and education and knowledge on professional styling can help our student be competitive and successful! This collaborative event with LLCC and JCPenney offers opportunities for students to ask questions and feel more prepared for professional interviews and work-related apparel.
Is this event just for students?
In addition to students, all faculty, staff, and LLCC Alumni are invited to shop at the event with the 30% discount.
What are some things that students should know about this event? 
LLCC Career Services will be at the event and students should sign-in at the career table to receive instructions and assistance to receive all of the discounts.
JCPenney will have a designated register that all LLCC shoppers will use to make their purchases.
JCPenney staff will be on hand to offer guidance and assistance to LLCC shoppers.
The store will have markers in each section indicating apparel/accessories that qualify for the 30% discount. The JCPenney Salon, Sephora, Portrait Studio will also offer special giveaways and discounts to student shoppers.
Specialty items like scrubs and other online products can be purchased using the discount at the JCPenney store on the day of sale. JCPenney associates will assist with the online purchasing process and discounts in the store until closing at 9 p.m.
The Suit-Up Event is not just for suits and dress wear, other items that will be available for purchase include: jewelry, luggage/brief cases, khakis and business casual wear, work boots, intimate apparel, handbags/wallets, socks and many other items.
Stay tuned for more information on our LLCC Career Services page, bulletin boards, tabling, and digital signs.
For more information, contact Cathy Huffman ([email protected]) or Marina Wirsing ([email protected]) in Career Services.