LLCC art gallery gives refugees a voice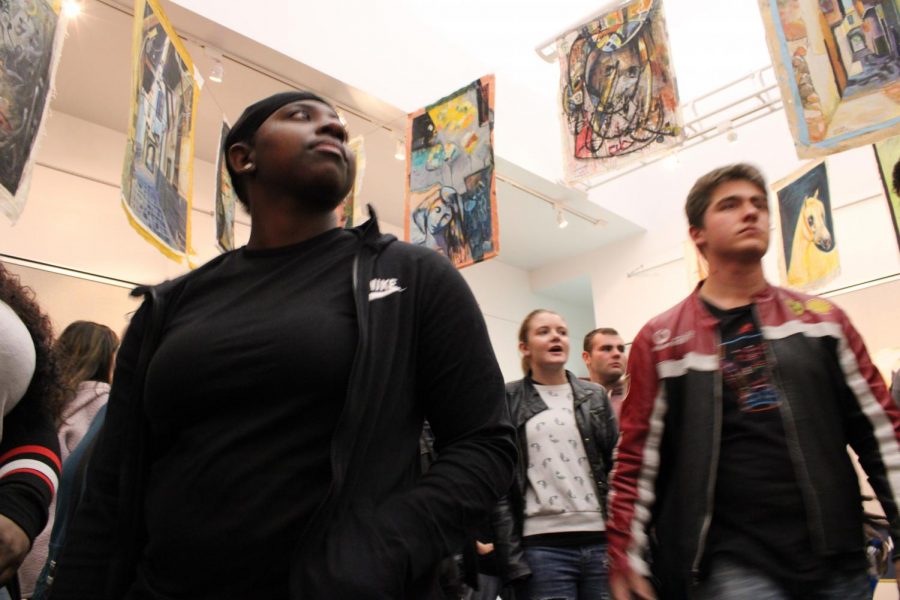 "It's really moving to see the struggle in the art from the artist," said first-year student Sarah Jebailat, when talking about the Stamps of Hope art show.
Stamps of Hope was founded upon the art done by Syrian refugees from the Zaa'tari Refugee Camp in Jordan. The artwork allows men and women currently living there, to express all of their energy into creating masterpieces, like the ones shown in the gallery.
The Zaa'tari Refugee Camp opened in 2012 and is home to about 80,000 people displaced by the years-long war in Syria.
Artists there regularly organize workshops for the children staying there to express their emotions into their artwork. As shown in many of the pieces we see anger, frustration and grief in each of the refugee's paintings.
But we also see a glimmer of hope for a better future with the paintings. Especially ones that include children smiling in the face of destruction.
"I was very dumbfounded when they were showing me each and every one of those paintings; I was speechless," stated Rihab Sawah, "There is only feeling when you see art like this."
Sawah is an assistant professor of physics and is the one responsible for organizing the exhibit. Sawah herself is from Damascus, Syria, and lived there for around 18 years growing up.
"And most people don't know that these people are held like hostages. They can't leave when they want. They have to have a really good reason and a time of departure, then return otherwise, they aren't allowed to leave," stated Sawah.
Leslie Stalter, an art professor here at Lincoln Land, makes the decisions of who gets to present their artwork in the James S Murray Gallery.
"Sawah talked to me about 'Stamps of Hope' a year ago," Stalter stated.
Stalter herself has lived in Jordan and was aware of their political system and was beyond fascinated with the artwork being shown to her by Sawah.
"I wish I would've had the connections Sawah had and had known about this sooner I would've done it a year prior," Stalter said.
The money that is coming from the artwork is going back to the refugee camp to give them more art supplies, and to help out the instructors there in Jordan.
If you are interested in purchasing a piece please go to Sawah herself or email her for more information regarding the artwork.
In regards to their situation, the artwork really heals the people living there. These paintings have so many messages in them. Powerful yet graceful, these Syrian refugees see hope and a future ahead of them. Even in the most tragic of times, they still find a reason to go on.
This means everything to the refugees in Jordan. Every little bit of money helps them temporarily escape their reality and devout their time there into their art. Art helps them all come together in the camp and create more of a community.
Those who want to learn more about the project can email Sawah at [email protected] or go to the James S Murray Gallery in Menard Hall. The show will be open until Nov. 14.