Nursing student saves life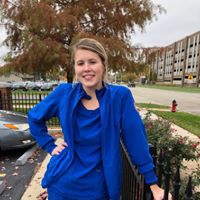 On Tuesday, Oct. 15 Lincoln Land nursing student Maggie Jacobs responded to an emergency, when others might not have.
As part of her nursing program Maggie does her clinical work at St. John's hospital in Springfield.  She was on her break in the hospital café when she heard a woman yelling "Help!"
At first, she wasn't quite sure what was going on, but when she heard the woman yell again she went over to her. Sitting next to the women Maggie noticed a man choking. Without hesitating, Jacobs quickly performed the Heimlich maneuver on the man to save his life.
The man she saved was John Kienzler, a St. Johns Hospital volunteer. On LLCC's Facebook post, Kienzler commented, "I was so grateful to be at the hospital, surrounded by health care professionals, when I had the unfortunate luck of choking on my lunch. I am very thankful to everyone who quickly appeared at my side, especially Maggie Jacobs the Lincoln Land Nursing student, to help me that day."
Maggie Jacobs has always wanted to be a nurse to help others.
Her inspiration for this is her grandmother, Elizabeth Jacobs and anyone else in the Healthcare field "it's pretty incredible to be able to do what a lot of them do, every single day," Jacobs says about the people who work tirelessly to save people and help them every day.
After Lincoln Land, Jacobs says that she doesn't plan in staying in Springfield but also does not want to travel too far from home because she is really close to family here in Springfield.
One option for her she says in North Carolina at Mercy Hospital where her Grandma attended. One thing she knows for sure is that she wants to get Masters and doctorate in nursing somewhere down the line.