Lincoln on display in the A. Lincoln Commons
LLCC is celebrating Lincoln's birthday with him. Feb. 12, 2020, is just one of the days the Illinois Freedom Project will be in the A. Lincoln Commons. The exhibit will be there Feb. 11 through Feb. 14.
LLCC Outreach Centers will host Lincoln-themed activities during the week. On Feb. 12, noon to 2 p.m., LLCC-Litchfield will host an exhibit of Lincoln artifacts from the Historical Society of Montgomery County, and author Carol Alexander will be on hand at LLCC-Taylorville to share local Lincoln stories.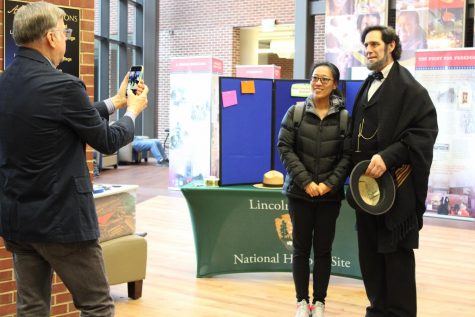 LLCC-Jacksonville will hold a presentation from noon to 12:30 p.m. on Lincoln's impact in Morgan County. Throughout the week, LLCC-Beardstown will feature showings of the movie "Lincoln" and personally guided tours of the Old Lincoln Courtroom and Museum.