College students benefit from others understanding their code
Justin Rose believes that diversity is not just a concept. 
"It's something that we have to actually practice and take intentional steps to understand," Rose said.
This is what he had everyone keep in mind before introducing the topic to his seminar "Do I Talk too Loud: The Dynamics of Code-Switching."  The UIS Director of Diversity Inclusion hoped to help LLCC students and faculty gain a better understanding of the concept of "code-switching"– the act of using two or more languages or patterns of speaking in a single conversation. 
Rose hoped that a better understanding of the practice would help the audience be more appreciative of Black History Month.  
"This used to be deemed as a deficit," Rose said. "If you don't talk or show up in a certain way, then you somehow are incompetent, or you just didn't get it." 
One of Rose's point with this seminar was to say in order to achieve diversity, people need to be willing to understand that different backgrounds will always bring more perspectives to the table. 
"A lot of students might be held at contempt to some extent because of certain pieces of their identity," Rose said.  
"Understanding requires talking and communicating at every level. Nonverbal, verbal, or appearance. There shouldn't be any empty transitional zones represented on your college campus." 
Code-switching allows people to communicate more effectively with those they have a shared experience, and Rose said everyone uses a form of code-switching to some extent.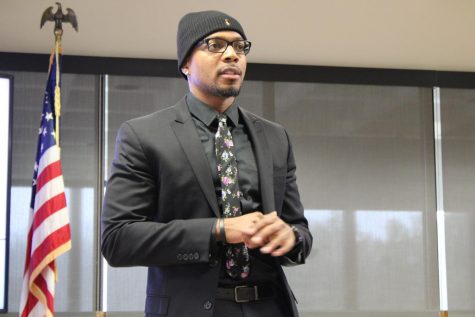 For example, all college students have a shared experience that those who have never been would just not understand. Most students would understand a phrase like "I'm taking 15 credit hours this semester" but to someone who's not in college, that phrase means nothing to them. 
In the end, Rose's point is that it is beneficial for more workplaces and college campuses to have people on their side who understand the codes that people of different backgrounds are switching to. It makes a place more inclusive to many people. 
Rose felt he accomplished what he meant to accomplish with this seminar.
"I didn't want it to just be me up here talking, I'm glad we got in some conversations," he says. 
"I wanted to tell the history (of code-switching) and talk about where it came from, and I wanted to hear stories, and that's what we did. I think it was a nice arch."