Professor couples share their stories
Think about that feeling you had seeing your significant other for the first time. Imagine how happy you were to call them your friend, and then, eventually, something more. 
You feel these feelings, and so do your friends. You discuss how you feel over food, and sometimes tears. Sure, your friends know how you feel, but so do your professors.  
During this Valentine's day season, three couples of LLCC professors share their stories of what brought them together, and why they stay.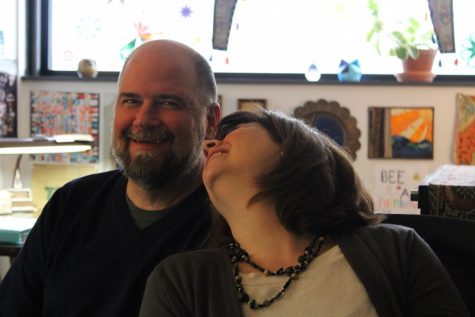 English Professors Alison and Eric Stachera met in graduate school in Ohio back in 1996. She was studying rhetoric and composition. He was studying creative writing. While they never had any classes together, they met at some graduate student parties and started to form a bond from there. Before he knew it, Eric was down on one knee and ready to follow Alison to New Mexico, where she would pursue another degree. 
Soon it was Eric's turn to go out on the job market. Alison said that she would follow him anywhere. That led them here, where there were two open spots in the English department. It was almost as if it was meant to be.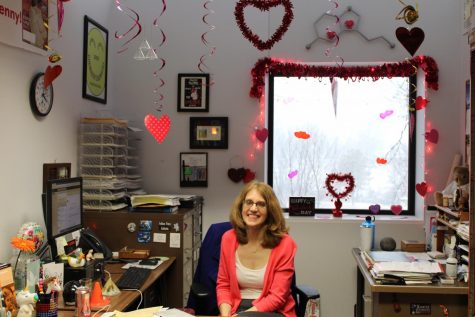 Michael and Jennifer Ramm found themselves in a similar situation. They were both in graduate school at the University of Wisconsin-Madison. Both were studying chemistry. However, that's not what brought them closer together. 
"The first time we actually talked to each other was just before I left (grad school) to take the job here," says Jennifer. She and Michael only saw that they had common ground because of Lincoln Land. 
"We were at a seminar, and I mentioned that I got the job at Lincoln Land. And a mutual friend turned to him and said, 'Hey, didn't you go to Lincoln Land?' And that was our first conversation ever. It was just before I left graduate school!" 
Jennifer and Michael only really began getting to know each other when Michael was hired at Lincoln Land. They became friends throughout the first year that he was working here. 
At the end of that year, they began dating. 
"Everyone always says, 'There's got to be a lot of chemistry between you two!'" Jennifer jokes. She notes that it's something she hears all the time.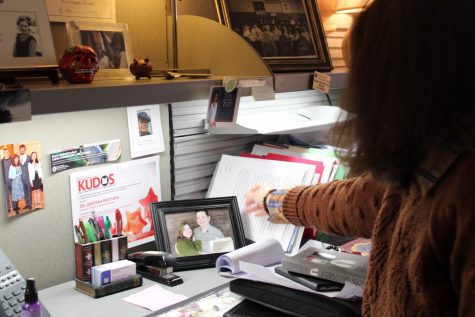 Deborah Brothers and John Paul Jaramillo have been together for 14 years. When Jaramillo moved to Illinois, he sought out a job at Lincoln Land. This is how he and Brothers got to know each other. Since 2005, they've been there for each other. 
Brothers and Jaramillo's relationship is a slow burn romance. They took their time before jumping into anything.  
"It took us a long time to decide things and to say, 'Yes, we want to do this.' But we never want to decide these things until we know," Brothers says.  
But it was to the point where they realized that what was happening between them was real and couldn't wait any longer. 
"It was a real risk in some ways, and it took us several more months to make that decision...but finally we were like, 'Yeah, this seems real. This seems important,'" says Brothers. "I remember just how a little bit scary it was at first. … It's a different kind of relationship." 
Being with a coworker is a different experience. Brothers expressed her concerns about going into her own relationship. She was worried about things not working out and still having to see the other person daily.  
Alison said: "I think under other circumstances that I would not recommend a workplace relationship, because they are so fragile, and then it's so uncomfortable if it doesn't work out. But I didn't have any hesitations because we were already married coming in here." 
For the most part, being able to work a significant other and best friend can be awesome. It could be the little things like riding to work together or having someone to bring items that were accidentally left at home.  
Talking to his wife Alison, Eric says, "I like coming to work and knowing you're (Alison) here and being able to check in with you and talking about whatever is going on. Whether it's professionally or personally or family-wise, it's just a tremendous benefit." 
It is also nice to be able to have a conversation with someone that you have so much in common with. "We share a common profession, so we have a good dialogue on literature and pedagogy and writing. We're peers, so we talking to her isn't like just talking to anybody, it's like talking to an informed professional." Jaramillo says about working with Brothers.  
"We're sharing a workspace and sharing a place, but we're also sharing a love for writing and literature. Which is great!"  
On this Valentine's Day evening both Brothers and Jaramillo and the Stacheras have dinner reservations. The Ramms will probably stay in and watch a film, as they usually do on Friday nights.