Congratulations to the 2020 Homecoming Queen and King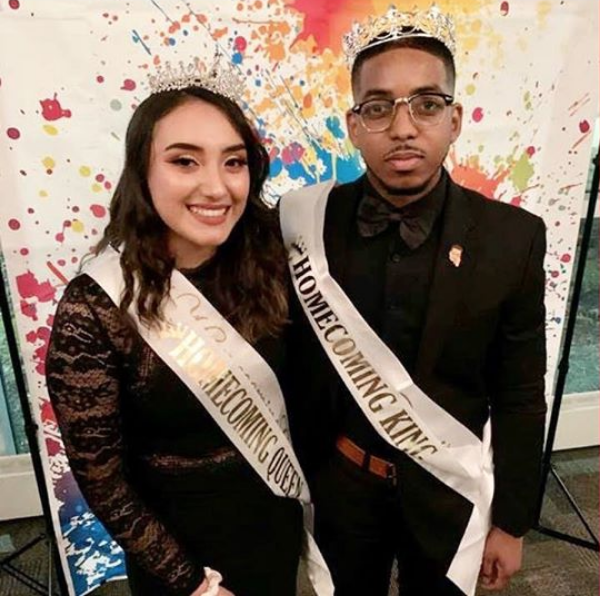 Saturday, Feb. 22 2020 Denisse Orriola Guijosa won the title of LLCC homecoming queen! Learn more about the winner of the crown:
At LLCC I am a Biology major. I plan to one day become a doctor. As of now, I am leaning towards pediatrics. I am a sophomore, and I will be graduating this spring!
I am a member of PTK, and I had signed up for the self group, and I am looking into joining other clubs as well. In my free time, I help my friends learn math, science, or composition. Also, my favorite event LLCC hold is the multicultural event.
I decided to run for homecoming court because it caught me by surprise that someone would nominate me. I say that because I live an hour and about ten minutes from LLCC Springfield, and I do not know very many people. I think that by running I will be able to meet new people and make more friends. Also, my boyfriend encouraged me to run to get out of my comfort zone.
I think it would be awesome if I won! I would not only be representing LLCC Springfield, but I will also be representing LLCC Beardstown (where I live). I think that I would also be representing diversity, I have family that is Mexican, Puerto Rican, Greek, American, Spanish, and others. Winning would mean that although I might not think that I am making a big difference in the world by giving kindness I probably am 🙂
Denisse may have received her votes on account of her being a "very easy person to talk to." She adds, "I am also respectful of anyone's and everyone's points of view. I love learning about new things and seeing the diversity."
Travis McCullough won the title of homecoming king! learn more about him and his involvement on campus:
Travis McCullough is very dedicated to Lincoln Land. President of the black student union, vice president of psychology club. are commitments that take up most of this time. This is on top of being a full-time student.
Nominated by his BSU advisor, Travis is hoping to get himself more out there. "It's a good opportunity for myself, I try to partake in as many events as possible to try and get the full college experience."
Of course, McCullough is always thinking about the bigger picture," going into a bigger university, it will help me have a smoother transition and hopefully get me more officer positions there."
McCullough practices humility, so he is not used to seeing himself in the spotlight. But he still is grateful for the opportunity. "I'm not really used to promoting myself, but I think it would be a great accomplishment. I would be representing Lincoln Land to the best of my ability."
A vote for McCullough is a vote for representation. "I want to promote something that's bigger than myself." He hopes that people can see past the surface level when it comes to voting. "I believe that people who see my genuineness are hopefully inclined to latch on to that."