How to stay positive while in self-isolation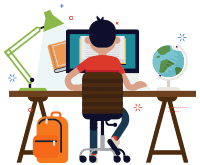 Being in self-quarantine can be hard, especially if you're like me and need to be out and about in order to feel productive. It can be a dark time sitting at home with all the time in the world for your thoughts to catch up with you. But don't worry! There are still ways to stay positive even while you're in isolation. 
1.) Delete your social media
I know it may be hard to disconnect with the word during this time, it may really be beneficial for your mental health. Having the thoughts of the masses piled into your heads for who knows how long can really start to take a hit on your how you process your own actions. Instead, try getting your news through local news sources or other news outlets. 
2.) Find a hobby
If you've ever wanted to take up pottery or aerobics, this is the perfect time to do so! With most of our schedules freed up there is time to take on hobbies that we've always been interested in but have just never done. I myself have taken a new interest in gaming. If you're happy doing something you want to do, it will make time go by so much faster. 
3.) T
alk to your friends
It can be so easy to become disconnected during this time. Try keeping up with your friends using apps like Zoom, an app specifically for conference calling, or Houseparty, an app that allows you to play games with your friends even when you're separated. Being able to speak to some friendly faces and reminding each other that you're alive and well is a good way to remain positive. 
4.) Get ahead on your online classes.
I know that most of us never signed up for online classes. But is still important to keep up with them. Try setting aside a day where you can just power through online classes and get the assignments done. If your teachers allow you, you could even work on the stuff that's due in the future, so you won't have to worry about it later. 
6.
) Clean your room.
I don't mean to sound like your mother, but it has been proven that a cleaner space can have a real and positive effect on your mood. Doing your laundry, organizing a desk, or making your bed can help you feel better when you are forced to stay in one space during this time. 
5.) binge-watch a series
Now is the time to be getting into so new shows that you may have heard about but just haven't watched. Getting invested in a fictional world can help the time fly by faster and can really take your mind of off being quarantined.  Be sure to check out a list of binge-worthy shows from our assistant editor!