Loggers record victory after 5 game drought
SPRINGFIELD — The Lincoln Land Loggers have had a tough season full of lots of ups and downs.
The season started off great. (See the previous Lamp article at https://thelamponline.com/5841/sports/loggers-basketball-off-to-a-good-start/) After a Homecoming win, they had a drought of wins. The last victory was Feb. 10  against Robert Morris College.
On March 4, the Loggers beat Parkland 71-62. That was a big win because the game in Champaign ended with a 9-point lead against the No. 4-ranked team.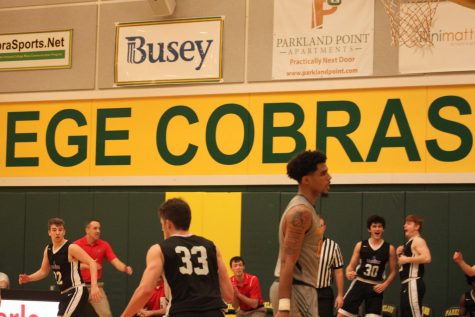 "The win means a lot to us," said team captain D'Aaron Owens. "We got the opportunity to upset one of the best teams in the country. Even better, we ruined their chances of winning the conference so knowing we were able to do that, boosted our confidence."
Owens said the game against Parkland was preparing them for the tournament on March 9 to 12.
The tournament is being held at Danville Area Community College.
"We have to go over all of their sets In an attempt to stop them," Owens said. "Coach will be pretty strict on us for rebounding, so in practice, we will be practice those drills to help us in that category."
Check lincolnlandloggers.com for more information on the tournament.
Tess Peterson can be reached at [email protected]